September 2017 Newsletter
Help IS on the Way!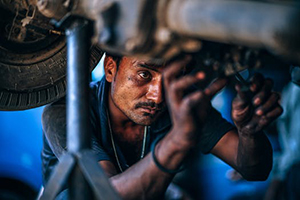 When you need to make a maintenance request we realize it can be stressful, even a bit traumatic!
We are here to help and we have some systems in place that are designed to get everyone's needs met as quickly as possible and in order of most severe need. We live in homes or condos also and know what it's like to need something fixed! Here are some TIPS to make the process as smooth as possible!
If NON emergency, submit your request via the portal or email to maintenance@fpmproperties.com. Be as thorough as possible describing the problem and if possible, include photos. Be sure to include your name, return phone number and complete address.
If EMERGENCY, call maintenance during business hours (xt 2229) OR the afterhours emergency line at 904-469-5230. DO NOT use this method for routine maintenance requests—it just slows down the facilitation of all requests, especially taking care of actual emergencies.
The vendor assigned to your request will call you directly to schedule service. This makes having a good current number (or one you want to be reached at) AND taking your calls or responding to any messages left for you very important. Vendors are busy and if they cannot connect with you to schedule, they move on to the next call.
If you have limited availability to be home during the week consider allowing the vendor to pick up and sign out a key to your property at our office. Most repairs can be completed on that visit and you do not have to use time off to get it handled.
Unless your request is an emergency when you need an update or status, send an email to maintenance@fpmproperties.com. Use this to alert us if 2 days have passed since submission of your request and you haven't heard from a vendor. Do not call repeatedly or call the emergency line for updates or status. This also slows down the overall process.
Be aware that some maintenance issues are more complicated than others. Depending on the nature of and/or cost to remedy, ordering of parts and/or approvals may be needed. This typically means a return trip as well. In some situations it cannot be avoided.
Our goal is to get your problem resolved as quickly as possible—if you help us by following these processes, we can keep improving the service we deliver to get your maintenance taken care of!
See below the list of issues that are considered emergencies; also check our website www.fpmproperties.com (under residents/maintenance request) for troubleshooting actions you can take before placing a maintenance request!
Electrical: Arcing, fire, smoke, no power, overheated fixtures. (If no power, please first check your circuit breakers and GFI reset buttons on outlets. If still no power, contact power company. Lastly, if no power after troubleshooting, contact your property manager.) Electrical appliances not working, especially refrigerators.
Fire: Notify fire department immediately, followed by emergency call to maintenance.
Heat: ONLY when outside temperature is below 40 degrees.
Air Conditioning: ONLY if health risk exists as documented by physician.
Heavy Structural Damage: To roof, foundation and walls.
Plumbing: Flooding (broken pipes) or stoppage of all drains (Resident responsible for all plumbing stoppages except when the result of roots or breakdown of fixture not caused by resident.) Resident must turn off water at the main near the street or the main going into the house immediately to help mitigate damages. No water.
Theft: Notify the police immediately and report details to property manager the next business day.
Security: broken locks, window locks, smoke detectors
Gas Leak







​ Disclosure: First Place Management Properties, LLC is "not" a real estate brokerage and does not lease or sell properties.
All sales and leasing activities are conducted through FPM Properties, dba. & First Place Management, Inc. both are licensed Florida Real Estate Brokerages. ​
---
FPM Properties is committed to ensuring that its website is accessible to people with disabilities. All the pages on our website will meet W3C WAI's Web Content Accessibility Guidelines 2.0, Level A conformance. Any issues should be reported to marketing@fpmproperties.com. Website Accessibility Policy
---