Great American Realtor Day in Tallahassee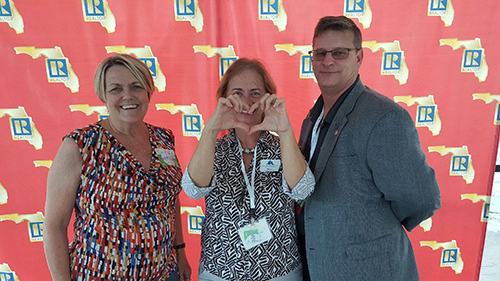 Brenda and Mike just returned from the annual visit to the state's capital to get updated on pending property related issues. There are 3 that are hot right now and here are the details regarding one of them (provided courtesy of the Florida Realtors)
Estoppel Certificate Fees:
SB398 by Sen. Kathleen Passidomo (R-Naples) and HB483 by Rep. Byron Donalds (R-Naples)
When purchasing property governed by a community association, buyers need to know whether the seller is current or delinquent in their dues, fees and assessments. This information is typically provided by the association management company to the closing agent in the form of an estoppel certificate. This document is very similar to a payoff letter from a lender. These companies are required to maintain this financial information-as an official record-for every home and condo owner. In a vast majority of cases, preparing an estoppel certificate amounts to nothing more than printing a ledger.
Florida law allows Association management companies to charge a "reasonable" fee for the preparation of an estoppel certificate. Some companies, however, have turned this administrative task into a revenue stream, sometimes charging over $1000.00 for a payoff letter.
Sellers often don't learn about these charges until they receive the closing documents and they have no option but to pay the fee, no matter how high. That's because their community association is the only source for the payoff information. There is no marketplace for them to shop for an estoppel certificate.
SB398 and HB483 cap the fees association management companies may charge for estoppel certificates, and specify a set time frame for when the certificate must be valid. The bills also create a uniform requirement for information so an estoppel certificate for a property in Pensacola contains the same information as one for a Miami property.
For more information on this compelling issue, check back here on our website.
You can also contact the Florida Realtors at 850-224-1400
Check out our newsletter NEXT month for details on 2 more pressing issues!







​ Disclosure: First Place Management Properties, LLC is "not" a real estate brokerage and does not lease or sell properties.
All sales and leasing activities are conducted through FPM Properties, dba. & First Place Management, Inc. both are licensed Florida Real Estate Brokerages. ​
---
FPM Properties is committed to ensuring that its website is accessible to people with disabilities. All the pages on our website will meet W3C WAI's Web Content Accessibility Guidelines 2.0, Level A conformance. Any issues should be reported to marketing@fpmproperties.com. Website Accessibility Policy
---