June 2018 Newsletter
Hurricane Season 101--How Property Owners Can Plan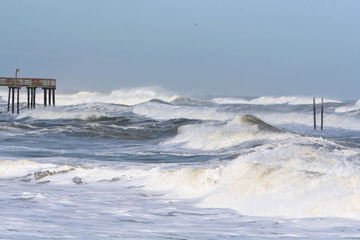 It's distressing when this happens; either you need to handle things with your own home in addition to any investment property or you are somewhere removed from your investment property (thus removed from the front lines of the situation) and unsure what will or what is happening specific to your property. That's partly why we're here to help but there are things you can do to lessen this anxiety:
Review Your Insurance
We've talked about this multiple times before, most recently in February re: flood insurance. It's still not too late to make any needed corrections as there are not yet any named storms but hurricane season is now upon us so DON'T WAIT. Contact your insurance agent and discuss everything you can do and know that before something may occur, you have the best policy you can afford and the correct type policy for your property (i.e. rental dwelling).
Research the Internet
A good website to research insurance options is http://www.naic.org/index.htm. You will be able to compare plans, etc. Another, FEMA. Go to FEMA
This will also give you information on how to prepare your property for different emergencies and disasters. Alert us if there is something you believe should be addressed.
Plan Emergency/Disaster Funds
It is important to have a plan in place in the event you lose rental income or have financial losses because of an emergency/disaster. Building a special savings or money market account is one way. Talking with your financial institution regarding emergency financing is another.
Read Our Communications
We may not always have the time to contact you before an emergency/disaster happens. However, if we do have advance notice, we do our best to keep you informed of any pending situation. Email communication (via this newsletter, for example) is the fastest way we have to communicate today. If you were with us last storm season, and especially during Irma, you know we were sending these updates out daily, sometimes multiple times. If you have an email address, please be sure that we have it so that we can confirm you in our communications database. You will also be able to see updates on our website.
Authorize Necessary Maintenance
There are maintenance items that can prepare your property for an emergency/disaster. For example, if your property is in an area with a lot of brush or woods, cleaning up debris in advance could save the property. We may be contacting you for authorization to perform specific maintenance to prepare your property for a pending emergency/disaster. There may be preparations that could save damage on your property. We ask that you answer our authorization requests as soon as possible
Emergency Contact Information
There is nothing more agonizing for a Property Manager than having an emergency/disaster occur and not being able to connect with the owner! Major decisions have to be made and your assistance is necessary. Let us know where to locate you if you going on a long vacation. This may not always be possible, so set up a reliable emergency contact that knows how to locate you if necessary. This is particularly important if you live in the same area as your property - give us YOUR emergency/disaster contact numbers.
View this: Season Forecast







​ Disclosure: First Place Management Properties, LLC is "not" a real estate brokerage and does not lease or sell properties.
All sales and leasing activities are conducted through FPM Properties, dba. & First Place Management, Inc. both are licensed Florida Real Estate Brokerages. ​
---
FPM Properties is committed to ensuring that its website is accessible to people with disabilities. All the pages on our website will meet W3C WAI's Web Content Accessibility Guidelines 2.0, Level A conformance. Any issues should be reported to marketing@fpmproperties.com. Website Accessibility Policy
---