The Flood Insurance Dilemma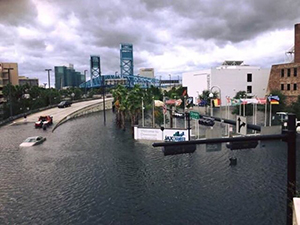 Yes, here we are again. We know no one wants to think about this yet but now is the time to be proactive—when you have plenty of time to get the information you need and deliberate and decide!
Whether you completed this exercise this time last year or didn't and got lucky, we suggest you do this regardless—storm season was particularly tough last year and insurance dynamics change.
Here are some brief thoughts:
Read your policy to see exactly what coverage you have (what does it cover vs exclude) What about additional living expenses?. If you don't understand, get your agent to explain it.

Some homeowner's policies cover damage caused directly by wind or hail, while others don't. A careful review of your policy can show whether it includes this coverage. Your coverage may be placed through the Florida Windstorm Underwriting Association (FWUA).
Find out whether you have "guaranteed replacement cost" insurance -- what it would really cost to replace your home and contents at current value. Or do you have "actual cash value" -- depreciated cost? Does your policy have an automatic "inflation guard" to keep up with costs?

The "Hurricane Insurance Affordability and Availability Act" offers a broad range of deductibles for homeowners to choose. For more information, review your policy and other materials sent by your company.
Be aware that your homeowners policy does not cover flood damage. You must have separate flood insurance!

Standard homeowner's policies DO NOT cover flood damage, defined as "a temporary condition during which water partly or completely covers the surface of normally dry land." You should carefully check special maps, called FIRM maps, kept by the Manatee County Building Department that show floodplains. If you live in a flood-prone area, contact your agent about obtaining flood insurance. You may qualify for the National Flood Insurance Program.
There's a 30-day waiting period on flood insurance from the time you apply to the day it's effective. If you wait until the hurricane warnings go up, it's too late.
Likewise, when a hurricane watch or warning is announced, agents lose their "binding authority" -- their authority to enact insurance policies -- until the watch or warning is canceled.

Insurance companies do not accept new applications or requests to increase you coverage once a hurricane reaches a certain distance from Florida.
We are simply providing this valuable information—we are not insurance brokers and would suggest you discuss any decisions about your coverage with your insurance professional!







​ Disclosure: First Place Management Properties, LLC is "not" a real estate brokerage and does not lease or sell properties.
All sales and leasing activities are conducted through FPM Properties, dba. & First Place Management, Inc. both are licensed Florida Real Estate Brokerages. ​
---
FPM Properties is committed to ensuring that its website is accessible to people with disabilities. All the pages on our website will meet W3C WAI's Web Content Accessibility Guidelines 2.0, Level A conformance. Any issues should be reported to marketing@fpmproperties.com. Website Accessibility Policy
---