Interior Feature and Décor Trends for 2017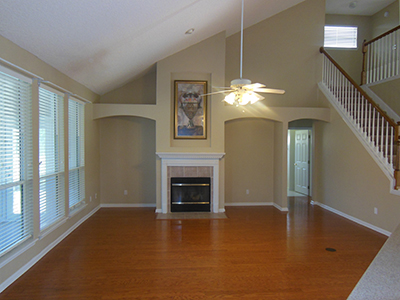 We've been reading a lot about what is trending for décor and minor interior home improvements or "updates" and while many are specific to the inhabitant and may not make sense for an investment property, a couple gave us pause.
Marble Accents:
Basically, this material is expected to show up in a lot of what we would describe as home "accessories" like trays, lamp bases, small nesting tables—that sort of thing. This is also an indication that a bath countertop or possibly a kitchen countertop that is in need of updating might just warrant a look at marble. There are affordable options out there that deliver the "look" without the hefty price tag.
All beige Interiors:
Now this is good news since most prospective residents tend to gravitate towards a neutral palette and FPM has for some time now been recommending a neutral palette when interior painting is needed. It's easier for the prospective resident to "visualize" the space with them living in it and easy to adapt existing décor and furnishings against such a back drop. We've been partial to a color called Killen Beige with white trim and it's been well received.
Black Hardware:
Black hardware and fixtures are anticipated to make an appearance in 2017 which is definitely a "statement" look. A renting resident could make this change with hardware (with owner approval) fairly inexpensively if it fit their scheme and in some rental properties, it might just give an inexpensive and fresh "pop" in limited doses or usage like a white bathroom or kitchen that could benefit from a small update.
Smart Home Technology:
Lighting. Security. HVAC. Media. All areas evolving with "smart" technology or what we used to call automation. Since we often see HVAC systems that need replacement, we'll focus on that. This information came from Home Advisor and is a quick primer:
HVAC
The adage "work smarter, not harder" doesn't just apply to yard work — it also applies to your home. When you're building a house, it's easy to include a smart heating, ventilation and air conditioning (HVAC) system; you're working with a blank slate. But if you're converting an existing system within an older home, consider these few extra steps:
Install a Smart Thermostat:
The best, and most economic, first step toward an HVAC overhaul is the installation of a smart thermostat (companies like Nest and Ecobee make industry-leading thermostats for around $250). These thermostats offer a number of useful features, including:

"Away" Alerts: Smart thermostats know when you leave the house and will automatically adjust the temperature to a predetermined baseline in real time.
Scheduled automation: Smart thermostats allow you to adjust the temperature of your home based on your recurring work/social schedule, cutting energy waste and saving you money.
Mobile Control: Smart Thermostats let you remotely adjust the temperature of your home using a smartphone or tablet.

Get an energy audit:
To ensure that your energy bills aren't flying out the window (literally), consider hiring a licensed professional to perform an audit. This will help you identify and tackle any energy-wasting issues.







​ Disclosure: First Place Management Properties, LLC is "not" a real estate brokerage and does not lease or sell properties.
All sales and leasing activities are conducted through FPM Properties, dba. & First Place Management, Inc. both are licensed Florida Real Estate Brokerages. ​
---
FPM Properties is committed to ensuring that its website is accessible to people with disabilities. All the pages on our website will meet W3C WAI's Web Content Accessibility Guidelines 2.0, Level A conformance. Any issues should be reported to marketing@fpmproperties.com. Website Accessibility Policy
---