December 2018 Newsletter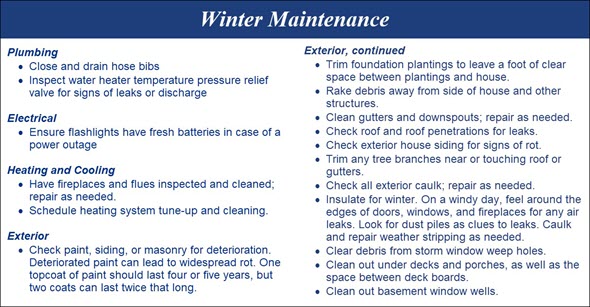 We know, it's Florida right? Sounds ridiculous but we do get cold and it can have impacts to property. This is the time of year when we remind and/or re-educate our residents about how to be safe and prepared for the unseasonable temperatures.
That does include some of the items above; however, many of these items are property owner responsibility and for many who dont reside here in Florida year round, this is likely a list you are or have been working on already for your primary home!
This chart comes from our friends at Old Republic Home Protection so we know it's sound advice!
Your property manager is putting eyes on some of these things to identify any potential action that might need to be taken in anticipation of our abbreviated winter here in north Florida (if you are not local, we just had our first cold "snap" this past week!) We can anticipate colder temperatures intermittently through February!
Let us know if there is anything specific that you have concerns or questions about here.
Wishing you a safe and warm holiday season!
The Team at FPM Properties







​ Disclosure: First Place Management Properties, LLC is "not" a real estate brokerage and does not lease or sell properties.
All sales and leasing activities are conducted through FPM Properties, dba. & First Place Management, Inc. both are licensed Florida Real Estate Brokerages. ​
---
FPM Properties is committed to ensuring that its website is accessible to people with disabilities. All the pages on our website will meet W3C WAI's Web Content Accessibility Guidelines 2.0, Level A conformance. Any issues should be reported to marketing@fpmproperties.com. Website Accessibility Policy
---