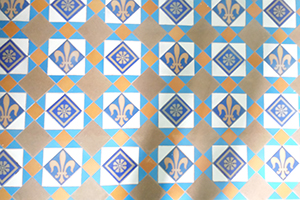 Bathroom trends, specifically. Here are some great insights from Apartment Therapy, with our two cents added!
Textured/patterned tile
Cement, terracotta and even zellige tiles lend a rich, old-world feel to the bathroom. If you're concerned about price, try half-height tile in a smaller bathroom, like a powder room, or creating a small accent behind the sink. Many of the older and Jacksonville beaches homes already feature this look!
Rustic/industrial elements
Rustic and/or industrial elements are another great way to bring in texture. Other ways to get the look: worn woods, exposed brick, or concrete accents. Ditto—older home = interesting features!
Vintage vanities
Using a vintage piece as a vanity gives your modern bath a timeless feel. If you have the floor space in the bathroom, you can also press a vintage piece into service as extra storage — both beautiful and practical. See where this is going? Think San Marco, Riverside, Avondale, Springfield….
French door shower enclosures
These eye-catching glass enclosures take the shower from a utilitarian space to the focal point of the bathroom. Gorgeous but not for the modest minded inhabitant!
Darker colors
As part of a trend towards darker, moodier colors all over the house (and especially kitchens), we're starting to see more somber, dramatic colors in the bathroom as well. Balancing dark colors with shiny white fixtures and gold accents is one way to keep this look from getting too gloomy. Instant drama!
Vintage-look tile floors
Everything old is new again. Vintage-style tile floors look great in any style of bathroom, are relatively inexpensive, and they're sturdy enough to last for a long, long time. You will definitely find this in some beaches properties (Neptune Beach, Atlantic Beach) as well the historic districts in Jacksonville
Round mirrors
Round mirrors are great way to soften the hard lines of a modern bathroom, and lovely to look at as well. A pair of mirrors over a double vanity, or just a single oversized one, is especially eye-catching. Easy change up and affordable too!